Vaikuttava dokumentti on kertomus siitä, miten kaksi äitiä eri maanosista yhdisti voimansa pystyäkseen kommunikoimaan paremmin autististen poikiensa kanssa.

Amerikkalainen Portia Iversen järkyttyi, kun hänen poikansa Dov todettiin autistiseksi kaksivuotiaana. Koska lääketiede pystyy tekemään varsin vähän autistien hyväksi, Portia alkoi itse tutkia, miten voisi auttaa poikaa. Hän sai tietää autistisesta intialaisesta pojasta, 11-vuotiaasta Titosta, jonka älykkyysosamäärä oli 185. Tito seurasi uutisia ja politiikkaa, luki kirjallisuutta sekä filosofiaa ja kirjoitti itsekin runoja. Se, että poika osasi kommunikoida, oli yksin hänen äitinsä Soma Mukhopadhyayn ansiota. Soma oli itse kehittänyt menetelmän, jolla hän opetti Titoa alkeellisissa oloissa Bangaloressa.

Perustamansa säätiön turvin Portia kutsui Titon ja Soman Yhdysvaltoihin kertomaan tutkijoille menetelmästä ja sen hämmästyttävistä tuloksista. Yhdessä Portia ja Soma ovat tehneet suuren työn auttaakseen lapsiaan ja heidän kohtalotovereitaan murtamaan autismin muurin.

Omakohtainen ja eläytyvä kirja antaa runsaasti tietoa, toivoa ja haasteita autistien läheisille. Siitä on suunnitteilla elokuva.

Description Kuvaus
An astounding new work by the author of The Mind Tree (Arcade, '03) that offers a rare insight into the autistic mind and how it thinks, sees, and reacts to the world. Ällistyttävä uuden työn tekijän The Mind Tree (Arcade,'03), joka tarjoaa harvinaisen näkökulman autistisen mielessä ja miten se ajattelee, näkee ja reagoi maailman.
When he was three years old, Tito was diagnosed as severely autistic, but his remarkable mother, Soma, determined that he would overcome the "problem" by teaching him to read and write. Kun hän oli kolme vuotta vanha, Tito oli diagnosoitu niin vakavasti autistisen, mutta hänen merkittävästä äiti, Soma, todennut, että hän haluaa eroon "ongelmaan" opettamalla häntä lukemaan ja kirjoittamaan. The result was that between the ages of eight and eleven he wrote stories and poems of exquisite beauty, which Dr. Oliver Sacks called "amazing and shocking," for it gave the lie to all our assumptions about autism. Tuloksena oli, että iältään kahdeksan ja yksitoista hän kirjoitti tarinoita ja runoja on ihana kaunotar, joka Dr. Oliver Sacks nimeltään "uskomaton ja järkyttävä", sillä se antoi valehdella kaikki oletukset autismi.
Here Tito goes even further and writes of how the autistic mind works, how it views the outside world and the "normal" people he deals with daily, how he tells his stories to the mirror and hears stories back, how sounds become colors, how beauty fills his mind and heart. Täällä Tito menee vielä pidemmälle ja kirjoittaa siitä, miten autistisen mielessä toimii, miten se pitää ulkomaailmaan ja "normaali" ihmisiä hän käsittelee päivittäin, miten hän kertoo hänen tarinoita peiliin ja kuulee tarinoita takaisin, miten ääniä tulee värit, miten kauneus täyttää hänen mielessä ja sydämessä. With this work, Tito— whom Portia Iversen, co-founder of Cure Autism Now, has described as "a window into autism such as the world has never seen"—gives the world a beacon of hope. Mukana tässä työssä, Tito-jolle Portia Iversen, co-perustaja Cure Autism Nyt on kuvailtu olevan "ikkuna autismi, kuten maailma on koskaan nähnyt"-antanut maailman majakka toivoa. For if he can do it, why can't others? Sillä jos hän voi tehdä niin, miksi ei voi muut?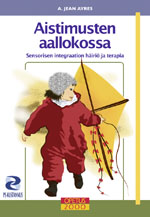 A. Jean Ayres
Aistimusten aallokossa
Sensorisen integraation häiriö ja terapia
Tämä odotettu teos auttaa ymmärtämään sensorisen integraation häiriötä ja terapiaa. Kirja valottaa mikä merkitys aivan tavallisella liikkumisella ja toiminnallisella leikillä on lapsen kehitykselle. Kirjassa on runsaasti ideoita lapsen kehityksen tukemiseen. Kirjan teoria ja käytännön terapiatieto ovat viimeisimpien tutkimustulosten mukaisia. Kirja on perusteos niin lasten vanhemmille kuin terapian ja kasvatustyön ammattilaisille.
Carol Stock Kranowitz
Tahatonta tohellusta
Sensorisen integraation häiriö lapsen arkielämässä
Sensorisen integraation häiriö ilmenee mm. yliherkkyytenä, aliherkkyytenä, yliaktiivisuutena, passiivisuutena, kömpelyytenä ja sosiaalisina ongelmina. Tässä kirjassa häiriötä lähestytään lapsen arkielämän kautta. Kirja sisältää paljon käytännön ohjeita lapsen auttamiseen kotona, päivähoidossa ja koulussa. Kirja soveltuu vanhemmille, opettajille, toimintaterapeuteille sekä kuntoutuksen ammattilaisille.
Suomenkielinen laitos on toteutettu yhteistyössä Sensorisen integraation terapian yhdistyksen (SITY ry) kanssa.
Ellen Yack - Shirley Sutton - Paula Aquilla (toim.)
Leikki linkkinä lapseen
Toimintaterapiaa sensorisen integraation keinoin
Elämän pienet askareet ovat isoja haasteita, kun lapsella on laaja-alainen kehityshäiriö. Tämä kirja tarjoaa tietoa sensoriseen integraatioon perustuvasta toimintaterapiasta. Kirjan leikki- ja askarteluohjeet tukevat monipuolisesti toimintaterapeuttien, varhaiskasvattajien, opettajien ja erityisopetuksen ammattilaisten työtä. Myös lapsen ja hänen perheensä kotielämä helpottuu, kun vanhemmat saavat neuvoja kontaktin luomiseen ja pelkojen ja poikkeavan käyttäytymisen hallintaan.
Ruotsalaisen Iris Johanssonin (s. 1945) omaelämäkerrallinen teos on monin tavoin hämmästyttävä. Kirjan on tehnyt ihminen, joka ei vielä oppivelvollisuusiän päättyessä juurikaan osannut lukea tai kirjoittaa.
Johansson oli nuori aikuinen, kun hänelle selvisi, mitä hänen erilaisuutensa oli. Kasvuvuosina häntä pidettiin kehitysvammaisena, omituisena, ilkeänä, hulluna, milloin minäkin. Maatilan isäntänä työskennellyt isä tajusi, että lapsi ei saa yhteyttä toisiin ihmisiin, ei ehkä itseensäkään. Rakastava isä uurasti vuodesta toiseen opettaakseen tytölle arjen perusasioita.
Lapsi liukui jatkuvasti pois siitä vuorovaikutuksesta, jossa ihmiset tavallisesti keskenään ovat. Hän oli omassa todellisuudessaan, jota hän kuvaa sanalla "ulkona". Ulkona hän leikki "lehahdusten", Sliren ja Skydden, kanssa. Hän koki ruumiistairtautumisia tilanteissa, joissa hän näytti vain kyyhöttävän paikoillaan. Hänellä oli paljon kehollisia stereotypioita eli pitkään toistuvia yksinkertaisia liikesarjoja.
Ihmisiä Johansson ei pitänyt tuntevina tai ajattelevina olentoina. Hän koki toisten puhe- ja tunneilmaisut "atmosfääriin" tulevina väreinä ja muotoina. Hän ei tuntenut kipua tai nälkää. Hän ei käsittänyt tapahtumien syy ja seuraus -luonnetta. Kaikki oli irrallista. Hänellä oli vain nyt-aika, ei käsitystä menneisyyden ja tulevaisuuden ulottuvuuksista.
Kirja tähtää koko ajan sen arvoituksen selvittelyyn, miksi Johansson tuli pois ulkona-tilastaan ja päätti pyrkiä siihen, mitä hän nimittää tavalliseksi todellisuudeksi. "Atmosfäärissä" hänellä on nykyisinkin läsnäolo molemmissa todellisuuksissa. Atmosfääri vaikuttaisi olevan voimakas herkkyys mielentilojen tasolla. Jotain sellaista, josta muissa yhteyksissä puhutaan auroina ja energiakenttinä.
Johansson on luonut vankan uran kommunikaatiovaikeuksista kärsivien ja itsetuhoisten ihmisten terapeuttina. Hillitysti hän antaa ymmärtää, että hän saa työssään paljon apua atmosfääristä, jossa ihmisten tuskatilojen perusluonne näkyy hänelle.
Tämä kirja on merkittävä selonteko vaikeasti sanallistettavasta ilmiöstä. Se on rikastuttava tietoteos myös käyttäytymistieteiden ja aivotutkimuksen kannalta.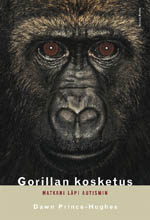 Dawn Princes-Hughes
Gorillan kosketus
Matkani läpi autismin
Kirja kertoo tositarinan naisesta, jonka elämää diagnosoimaton Aspergerin syndrooma hallitsee, kunnes hän tutustuu gorilloihin. Kertoja asuu kadulla ja hakee turvaa huumeista, mutta seuraamalla eläintarhan gorilloja hän alkaa ymmärtää myös ihmisten välistä vuorovaikutusta ja läheisyyttä. Vähitellen hän nousee yksinäisyydestän ja jatkaa opintojaan. Nykyään hän työskentelee antropologian apulaisprofessorina.